Your child's treatment team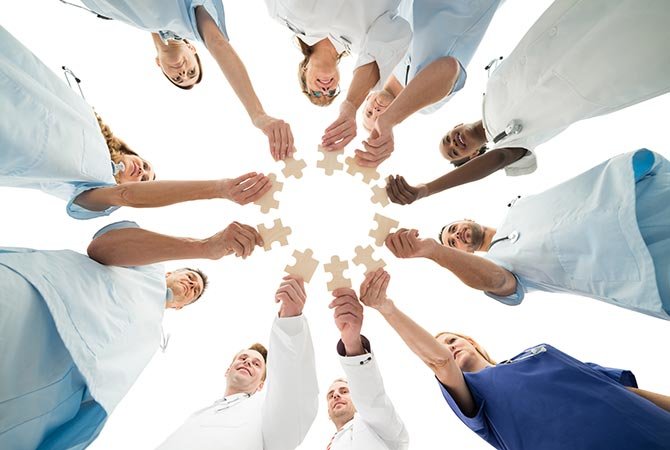 Your child's treating team will have medical, nursing, allied health, support people – and more. The people and services will vary from hospital to hospital.
Doctors
There is a team of specialists who specialise in a particular stream of medicine with many years of training and experience that provide cancer care for your child.
Primary Consultant Oncologist
The primary consultant oncologist is a doctor who specialises in the management and treatment of cancer.

Your child's primary consultant oncologist is the doctor who will order tests and make the diagnosis of cancer and develop a treatment plan for your child. They will oversee your child's care throughout the duration of treatment.

Once your child is discharged from the hospital, all your outpatient visits are booked with an oncology consultant or doctor in the outpatient clinic.

Other specialists
As well as the oncology consultants, there are other specialists involved in caring for your child who specialise in radiation therapy, surgery, fertility, nerves, bones and cells. The specialists involved in the treatment plan for your child will depend on the type of cancer your child has. Referrals to and discussions with other medical specialists will be decided by your primary oncology consultant when designing the treatment plan for your child.
Other Medical Staff
Clinical fellows are doctors training to specialise in cancer and blood disorders and supervise registrars, who are doctors doing specialist training, working towards being a consultant. Residents (resident medical officers or RMO's) are qualified doctors who are getting more experience in the hospital.

In the ward, day to day medical care is provided by the paediatric registrar and residents. The registrar and residents make a daily ward round to check all children and are available to answer questions about the day-to-day management for your child.

Nursing staff
Nurse unit manager (NUM)
The nurse unit manager has overall responsibility for your child's nursing care in the ward. The nurse unit manager is sometimes called the unit manager or charge nurse.
Associate Unit Managers (AUM)
Associate Unit Managers are experienced nurses responsible for running the ward during each shift. There is always an associate unit manager on duty in your child's ward.
Nurse coordinator
A nurse coordinator co-ordinates your child's care in the hospital and at home. The nurse coordinator is also the link between you and your child and the staff.
Nursing staff
The nursing staff provide day to day nursing care for your child both in the ward and in the day treatment centres.

Some nursing care can be provided at home by a number of different services such as Royal District Nursing Service (RDNS). This can reduce the number of hospital visits. The nurses at your treating hospital or primary treating centre can arrange this for you.

Allied Health
Some of this specialists might be available in your hospital. Ask your doctor or other members of the team.
Art therapist
The art therapist uses a variety of art media to help your child express feelings, thoughts, fears and experiences. These may be about your child's illness, treatment and being in hospital.
Audiologist
The audiologist checks your child's hearing. This is important because some antibiotics and chemotherapy can affect your child's hearing.
Chaplain
The chaplain provides care for your child, your family and for you. The chaplain listens to your concerns and provides spiritual, emotional, religious or simply human support. You don't need to belong to a religious group or church to ask for a chaplain's help.
Comfort First clinicians
A team who specialise in child development and focus on providing procedural support to children and families throughout their cancer treatment.
Comfort Plan
A document which is completed in collaboration with the child, family and Comfort First clinician, which specifies the child's procedural preferences.
(eg. how the child prefers to be prepared for procedures, positioning options, distraction and imagery techniques, helpful thoughts).

Dietitian
The dietitian monitors your child's nutritional needs and provides special diets and suggestions for ways to help maintain your child's weight during and after treatment.
Teaching and education support officers
Different hospitals have varying resources available to support children in hospital to remain connected to school and to support learning while in the hospital. The ward or day oncology outpatient staff will link you into the teaching service at the hospital.
Mental health clinician
Mental health clinicians include psychologists, family therapists, psychiatrists and psychotherapists. The mental health clinician can assess and treat the emotional and behavioural issues affecting children with cancer and their families. These may include anxiety about medical procedures and hospital admissions, changes in children's behaviour and mood, difficulties with siblings and family relationships. While you may feel you do not require this assistance initially, if, at any point later in treatment or even after treatment finishes, you feel it would be helpful, please speak to your nurse coordinator who can arrange for an appointment.
Music therapist
The music therapist uses music to give your child a way to express their feelings. This can help relaxation and pain control, focus on healthy parts of the body and let your child make choices and control things.
Neuropsychologist
Neuropsychologists investigate the relationship between the brain and behaviour. They look at different aspects of thinking and problem-solving. Neuropsychological assessment allows your child's progress to be monitored, and if there are problems, the neuropsychologist can recommend suitable ways to manage them.
Occupational therapist
The occupational therapist helps when your child has difficulty with daily tasks such as play, self-care or school activities. The occupational therapist assesses and treats these difficulties with a focus on decreasing the impact of disability and improving the quality of life.
Oncology pharmacist
The oncology pharmacist prepares and dispenses the drugs used to treat cancer and checks that the prescription is correct. The oncology pharmacist works closely with the medical and nursing staff and can tell you and the team about chemotherapy and its side effects.
Orthotist
The orthotist designs and makes supportive braces to improve your child's comfort, maintain alignment or assist with mobility.
Play therapist
The play therapist uses play to reduce your child's anxiety about an unfamiliar place and to help your child understand the medical procedures. Play therapy can be at your child's bedside or in the playroom.
Physiotherapist
A physiotherapist works with children and adolescents to improve muscle strength, flexibility, balance and coordination through exercises, games and activities. Education plays a key role in assisting families in maximising their child's physical activity. A physiotherapist may also be involved if a child develops respiratory complications during their treatment.
Prosthetist
The prosthetist designs, makes and fits an artificial limb (prosthesis) where an amputation has been necessary. A prosthesis may also be a replacement for another part of the body which may have been removed, such as an eye or breast.
Social worker
The social worker provides emotional and practical support and counselling for your child, you and your family and links you with other resources and services. Your family might need extra help because of the stresses relating to having a child with cancer. All families at the two Children's Cancer Centres are referred to a social worker. While you may feel you do not require this assistance initially, if, at any point later in treatment or even after treatment finishes, you feel it would be helpful, please speak to your nurse coordinator who can arrange for an appointment.
Speech pathologist
The speech pathologist assesses and treats speech, language and eating abilities. The speech pathologist can work with your child and family to set realistic communication goals. If there are chewing and swallowing difficulties, the speech pathologist can suggest suitable foods and feeding positions.
Support Staff
Administrative staff
The administrative staff at the children's cancer treatment centres, and the paediatric services at Peter Mac and the regional centres support the medical and nursing staff to help them run the services efficiently.
Blood collectors
Blood collectors take finger prick samples of your child's blood for a blood test. When your child is an outpatient, blood collectors in the pathology department take a finger prick blood sample before a clinic appointment.
Clinical research associates, data managers and clinical trial coordinators
Clinical research associates are also known as data managers or clinical trial coordinators. They make sure that research and clinical trials are approved by the ethics committees and that the treatment plan follows the approved research procedures. They also liaise with trial sponsors and collect and manage research data.
Patient services assistants (PSA)
PSA help in the cleaning and maintenance of the ward and in some hospitals assist the health team with daily ward help, like delivering food and messages.
Volunteers
Volunteers help with things such as sitting with your child if you need a break and assisting the play therapist. They are often on the ward and can be a great help to you and your child.
Ward clerks
Ward clerks do many things in the ward – making appointments, answering telephones, filing and keeping the medical records.
La Fondation La Roche-Posay and CCI make every effort to ensure that information provided is accurate and up-to-date at time of printing. We do not accept responsibility for information provided by third parties, including those referred to or signposted to in this publication. Information in this publication should be used to supplement appropriate professional or other advice specific to your circumstances.
Quick overview
Was this article helpful?